Education
Top tools for finding past and current DAO proposals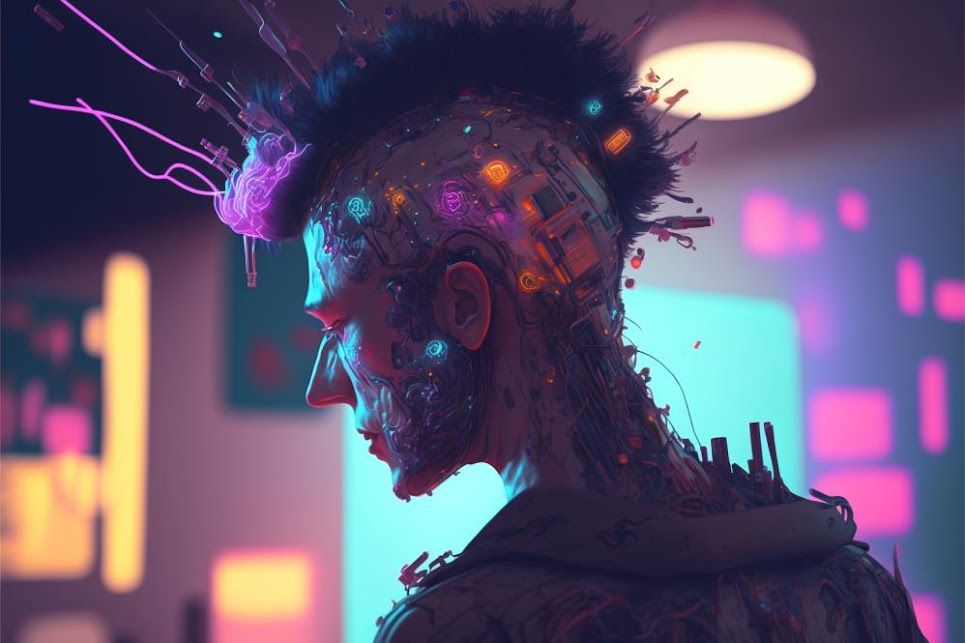 There are currently more than 12,000 different DAOs, and keeping up with the governance proceedings of each of these decentralized organizations can quickly become a herculean task. Thankfully, there are a number of DAO tools that simplify this process, helping you find previous and ongoing proposals and governance discussions.
In this guide, we'll explore some of the various tools that you can use to search for current and past proposals within DAO communities.
Messari Governor: Overall Best
Founded in 2018, Messari is a cryptocurrency data and research firm that helps users and businesses navigate the crypto space. In December 2018, the company launched "Messari Governor," a platform for keeping track of the governance of many top DAOs.

As of April 2023, the platform kept tabs on 875 DAOs, grouped based on the type of organization. Users can easily search for specific DAOs or filter their search results using tags such as Analytics, Art, Culture, DAO Tool, and DeFi.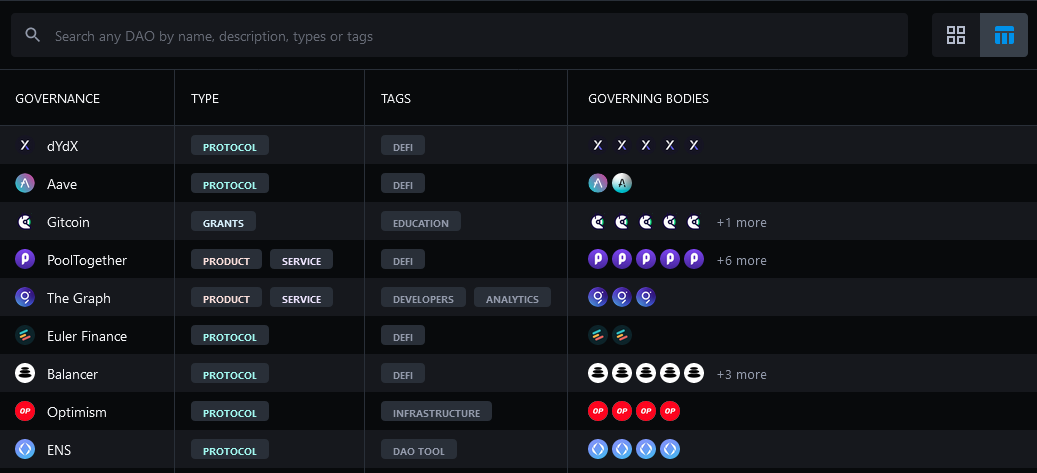 It is also possible to toggle how the DAO list is displayed between "card view" and "table view." In the table view mode, additional details such as the type of DAO and its governing bodies are readily displayed.

Upon selecting a specific DAO, you will be fed with an overview of the organization – the price of its governance token, a summary of the DAO and links to its website, on-chain and off-chain governance metrics, as well as the latest proposals. It is worth mentioning that some advanced fields such as the total votes, delegate activity, and average participation rate within the DAO are hidden from free users. Other DAO details like its structure and governance process are also restricted to only paid subscribers. That said, Messari Pro is priced at $29.99 monthly.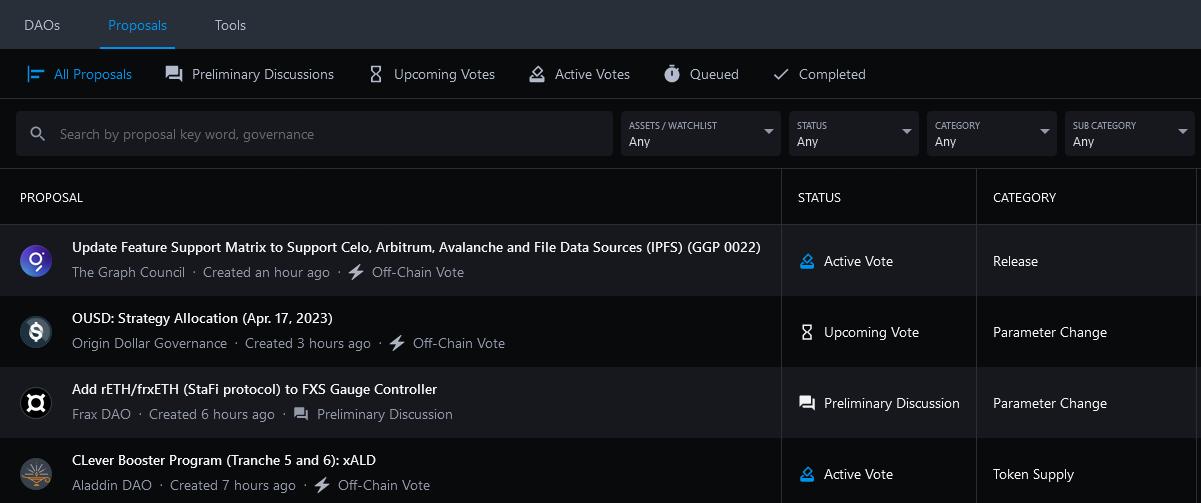 Another interesting feature of Messari Governor is the ability to view the most recent proposals in DAO communities. The proposal tab on the platform allows users to sort proposals from different DAOs. This can be further categorized based on the current state of the proposal – preliminary discussions, active votes, completed votes, etc.
In general, Messari Governor is arguably the most robust tool for finding proposals within top DAO communities.
Pros
Features an elaborate list of top DAOs
Simple interface, with an easy-to-use platform
Categorizes DAOs based on types and tags, making it easy for users to find DAOs in different niches
Allows users to sort proposals based on the stage – preliminary discussion, upcoming votes, active votes, queued, and completed
Provides a brief summary of what the proposal seeks to achieve
Cons
Features a paid version for more advanced users. However, the free version is enough for most retail users.
Does not provide data on relatively new DAOs
Snapshot: Most Comprehensive
Snapshot is an open-source voting platform that has become quite popular in many DAOs communities. The decentralized voting system uses IPFS as its main storage layer. As a result, voting is conducted off-chain and essentially fee-less.
Interestingly, Snapshot was originally created by Fabien, its founder, while he was working for Balancer. He was trying to create a voting platform that would allow BAL token holders voting rights within Balancer pools. However, he soon discovered that doing this on-chain would be too computationally heavy, forcing him to consider an off-chain option with IPFS.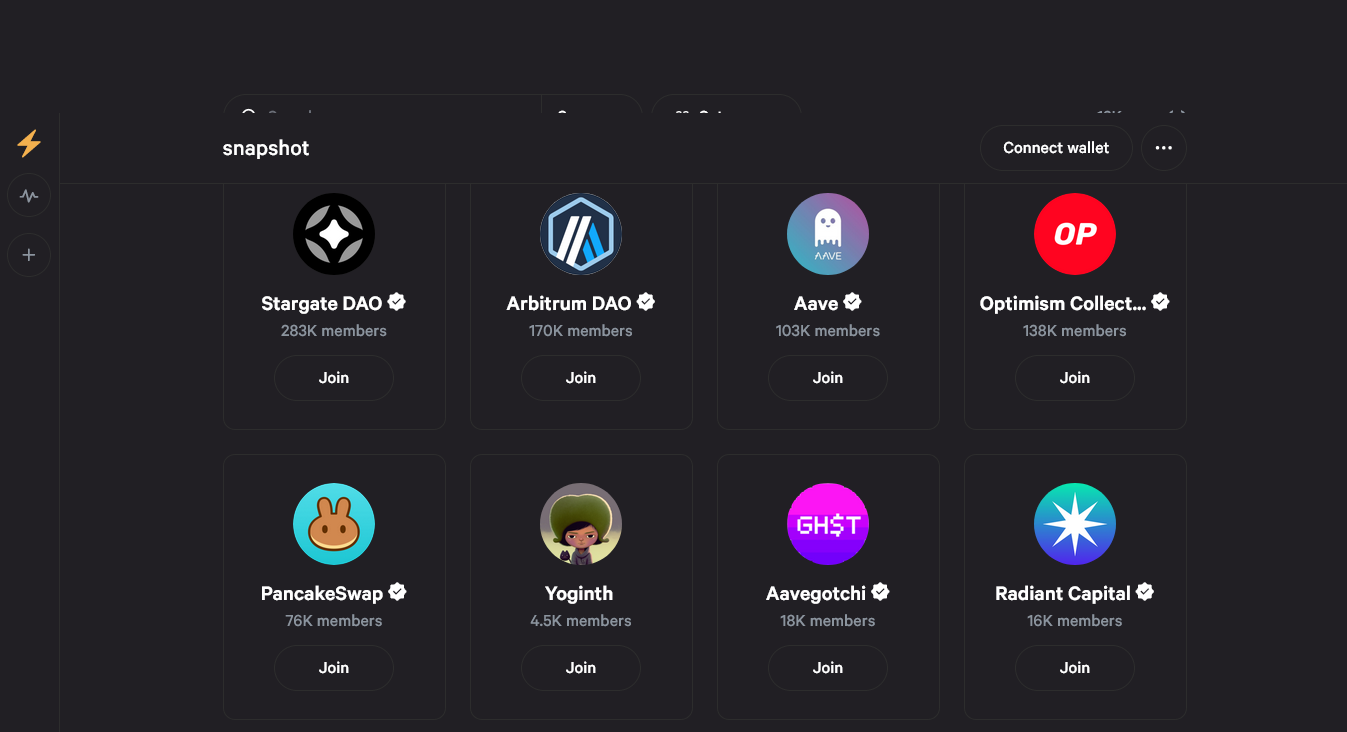 Snapshot is being used by over 9,500 DAOs, making it a perfect choice for finding past and ongoing governance proposals within these communities.
In addition to grouping DAOs based on their niche, Snapshot allows users to filter DAOs using other parameters like spaces, networks, and strategies. Furthermore, users can view the most recent proposals from different DAOs or sort them based on their timeline – active, pending, or closed.
Pros
A widely used governance tool by many DAOs. Meaning that users have access to a wide array of upcoming and ratified proposals from hundreds of decentralized organizations.
Easy-to-use interface, with the ability to sort proposals based on their state – active, pending, or closed.
Provides data on more than 9,000 DAOs
Allows you to view specific proposal details like the number of voters and the percentage of voting power backing or rejecting the idea.
Free to use
Cons
Requires users to connect their wallets and join a DAO before they can receive notifications on new proposals.
Limited to only proposals that are posted on Snapshot. Does not cover preliminary discussions within DAOs.
Tally: Best for On-chain Governance proposals
While Snapshot provides an off-chain voting solution for DAO projects, Tally touts itself as "a plug-and-play UI and API for standard DAO governance contracts." Like Snapshot, the voting and governance analysis tool allows members of a DAO to vote on active on-chain proposals, delegate votes to a third party, or view previous proposals.
According to its website, the platform is home to more than 500 on-chain DAOs and has hosted over 5,000 proposals. It uses what is known as the OpenZeppelin Governor — a modular system of Governor contracts that allows users to create and vote on proposals in an easy-to-deploy interface.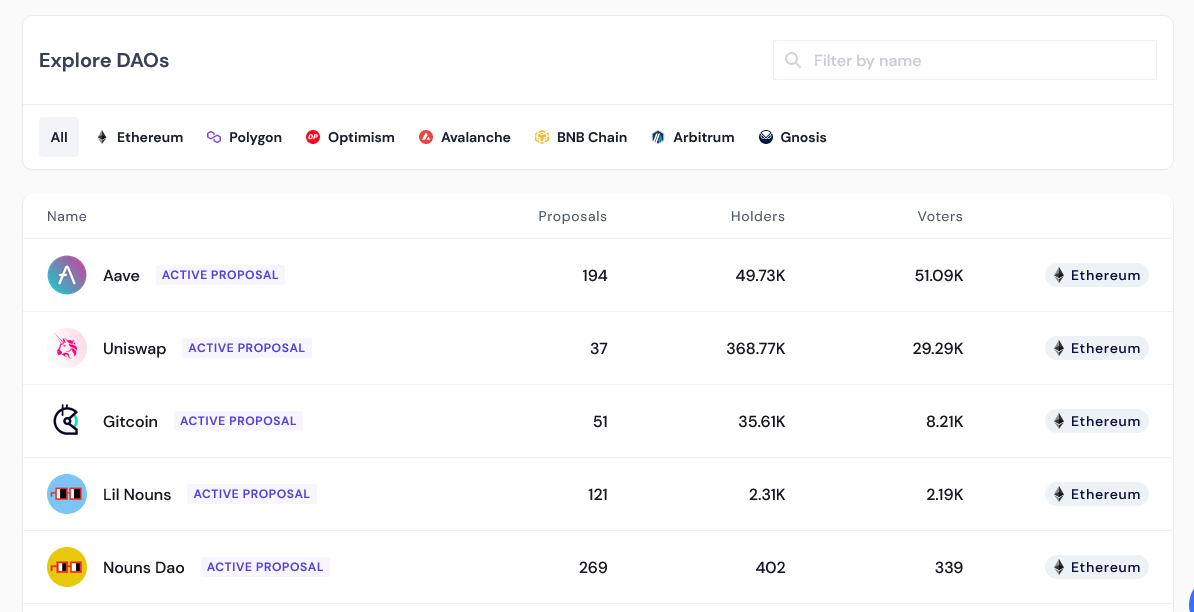 In addition to displaying the results of previous proposals, the tool provides transparency to the voting process by revealing who voted, their percentage of voting rights, and whether they voted in favor, against, or abstained from a proposal.
Once on the site, users can sort DAOs and find proposals based on the blockchain network – Ethereum, Avalanche, BNB Chain, etc. Users can also input the name of the specific DAO in a search bar to keep track of the proposals within the community. Details such as the all-time number of on-chain proposals, as well as the number of token holders and voters, are readily displayed on the general DAO page.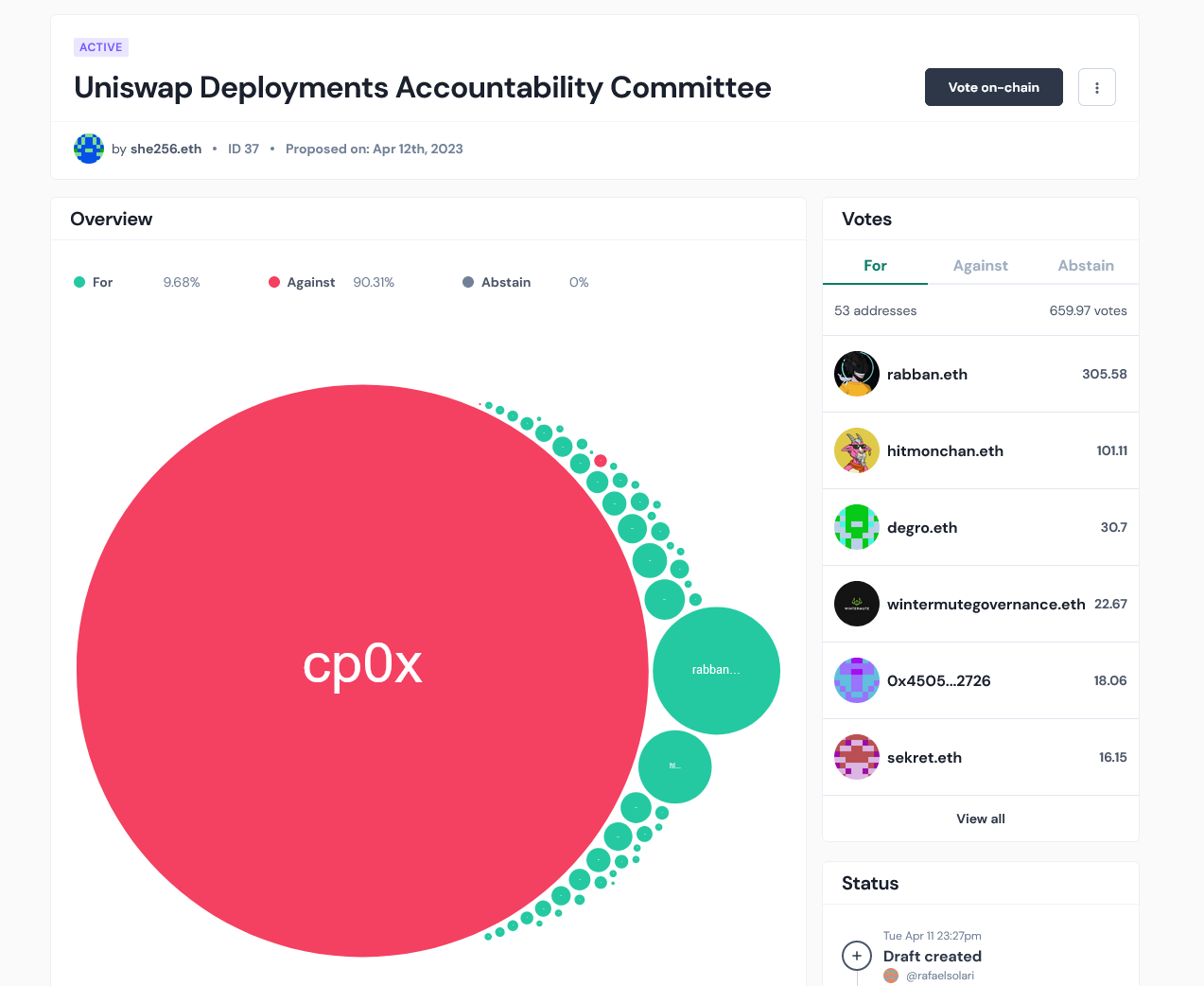 Pros
Easy to use for on-chain governance
Provides in-depth analysis of the DAO governance data, such as trending delegates, top voters, and Governor assets
Tally is free to use and its data is open for everyone to see
Free to use
Cons
Limited to only on-chain proposals and DAO protocols
Only works with protocols that use Compound or OpenZeppelin
Tracks a limited number of DAO projects
DeepDAO: Best DAO Aggregator
DeepDAO is a data analytics site for decentralized autonomous organizations. It can be best described as the CoinMarketCap of DAOs. Founded in 2014, the platform aggregates DAO data and visualizes other metrics including DAO market cap, member count, governance engagements, proposals, discussions, etc.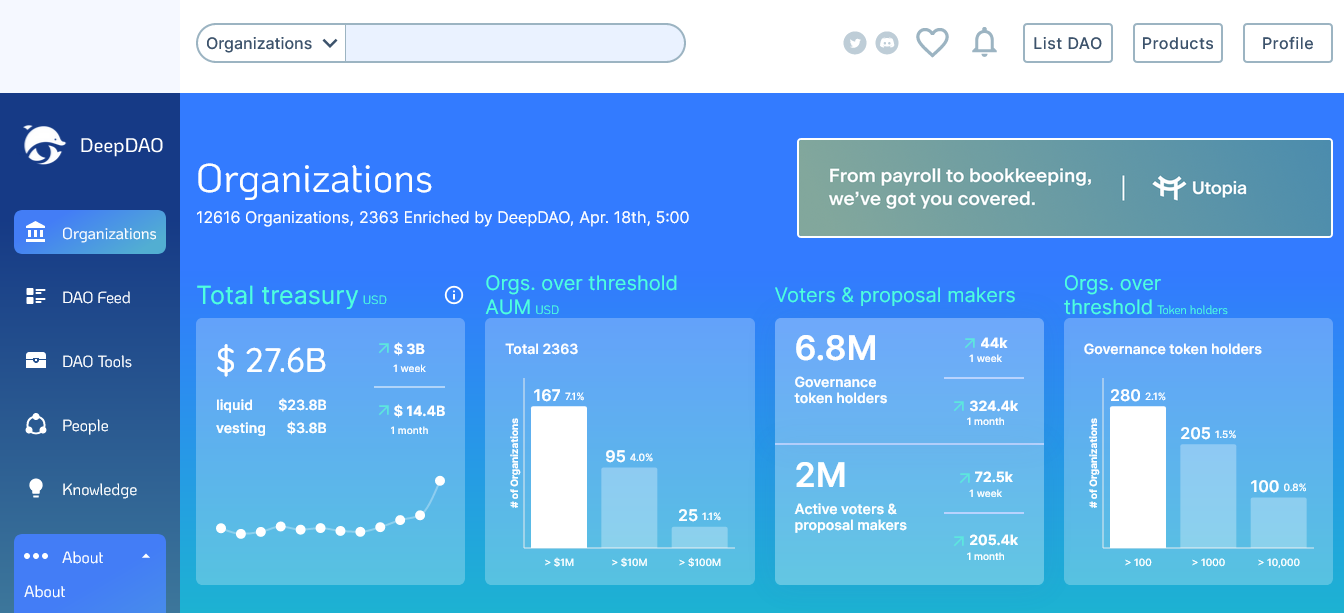 There are a number of options when it comes to finding proposals using DeepDAO. Users can search for a specific DAO from the homepage, which displays general DAO stats and DAO projects. By default, the organizations are sorted using their treasury size. There is also an option to sort DAOs based on their niche, such as DAO tools, DeFi, Arts & Culture, Work & Funding, NFTs, etc.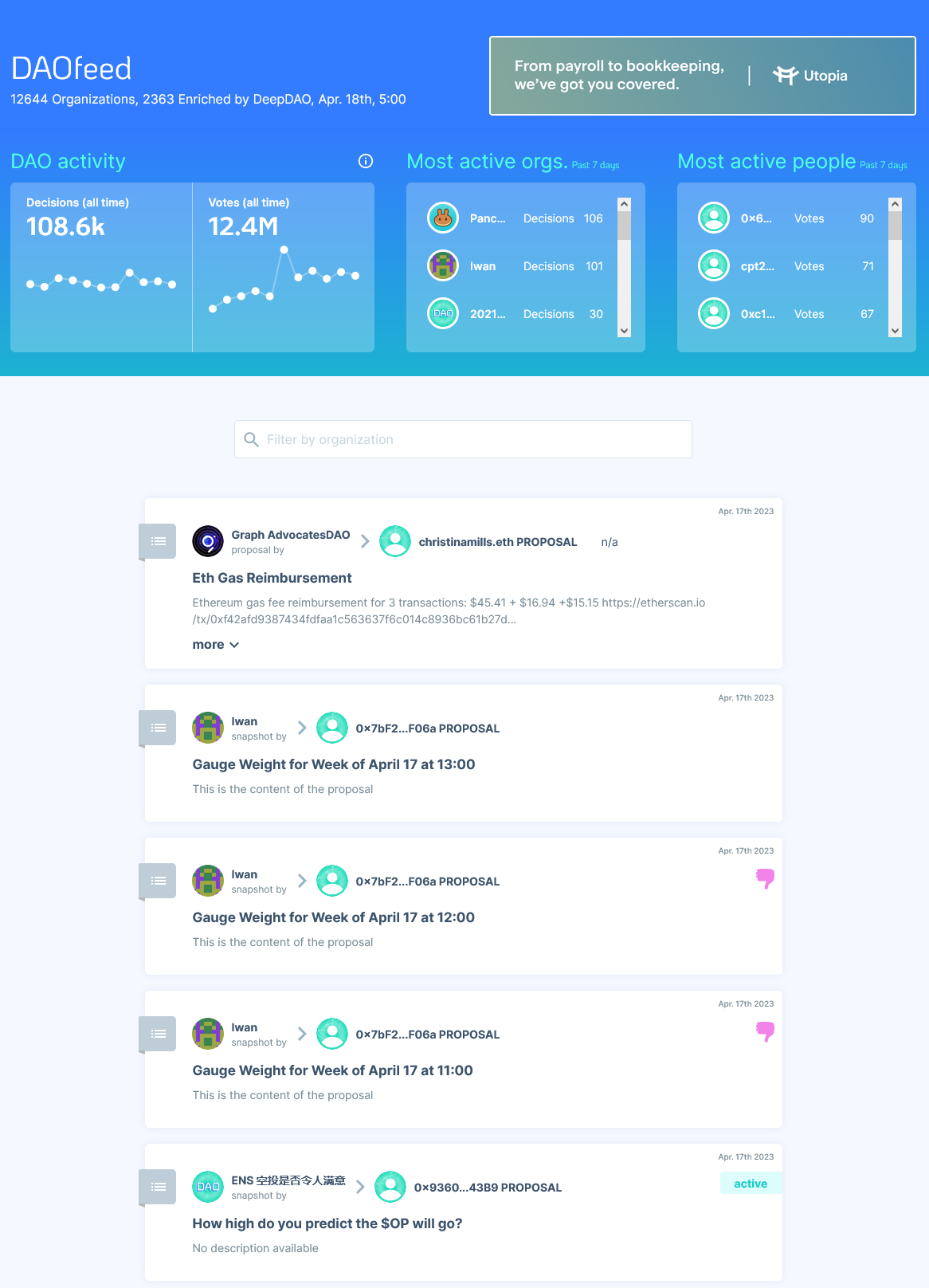 Alternatively, you can select the "DAO Feed," which takes you to a page displaying the proposals from different DAOs in order of how recent they are. I must warn you that unless you are searching for a specific proposal from a DAO, you may need to scroll for some minutes before finding anything interesting.
Pros
Currently the leading platform for aggregated DAO data and analytics
Free to use
Allows users to sort DAOs using several key metrics such as treasury size, network, and number of lifetime proposals
Cons
Data visualization options are quite limited
Limited and non-customizable filters. For instance, there is no option to view data within a custom time period.
Infinite scroll for the data feed
No sign-up option. Meaning, dashboard customizations cannot be saved.
Senate Labs: Newcomer
Senate is one of the new kids on the block. The platform made its debut in 2022, promising to make DAO governance life 10 times easier. The DAO governance tool allows users to keep tabs on proposals from popular DAOs like 1inch, Aave, Balancer, Uniswap, and several others.
It is worth mentioning that Senate displays both on-chain and off-chain proposals. However, given the age of the platform, there are currently just 29 listed DAOs.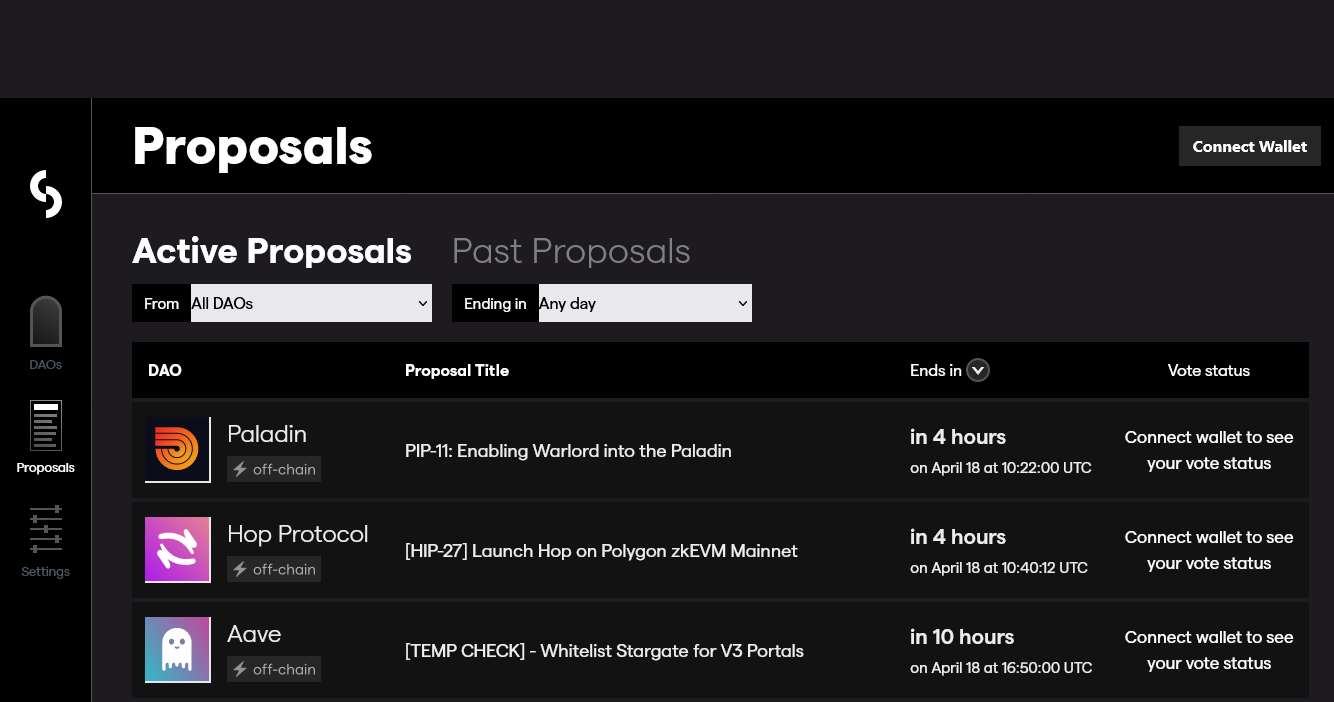 To find proposals on Senate, you need to click the largely visible "Proposals" tab on the homepage. The proposals are broadly grouped into active and past proposals, and can further be sorted based on the DAO or timeline.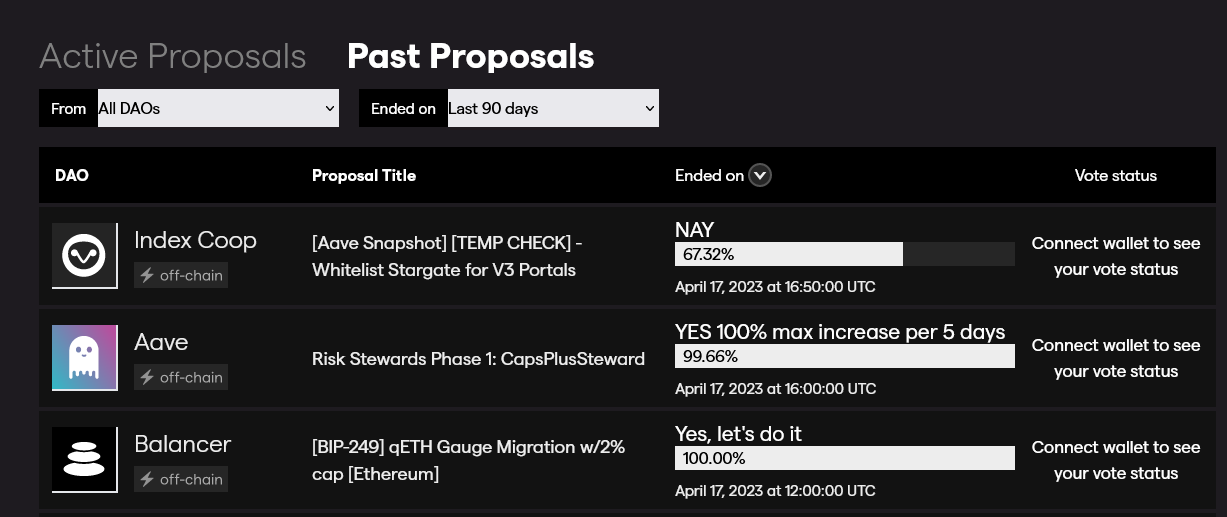 For past proposals, details such as the title of the proposal, as well as the winning vote are displayed. Clicking on a proposal will redirect you to either the Snapshot page (for off-chain votes) or the on-chain voting platform.
Pros
Sends daily mail reminders of new proposals from the DAOs you are subscribed to
Simple interface, with an easy-to-use platform
Allows you to sort both past and active proposals
Cons
Limited number of listed DAOs
Requires wallet connection before you can see the vote status
DAO Wow: Sleek kid on the block
DAO Wow is a search engine for DAOs and their respective proposals. The platform features a very sleek and intuitive platform that allows you to find DAO proposals.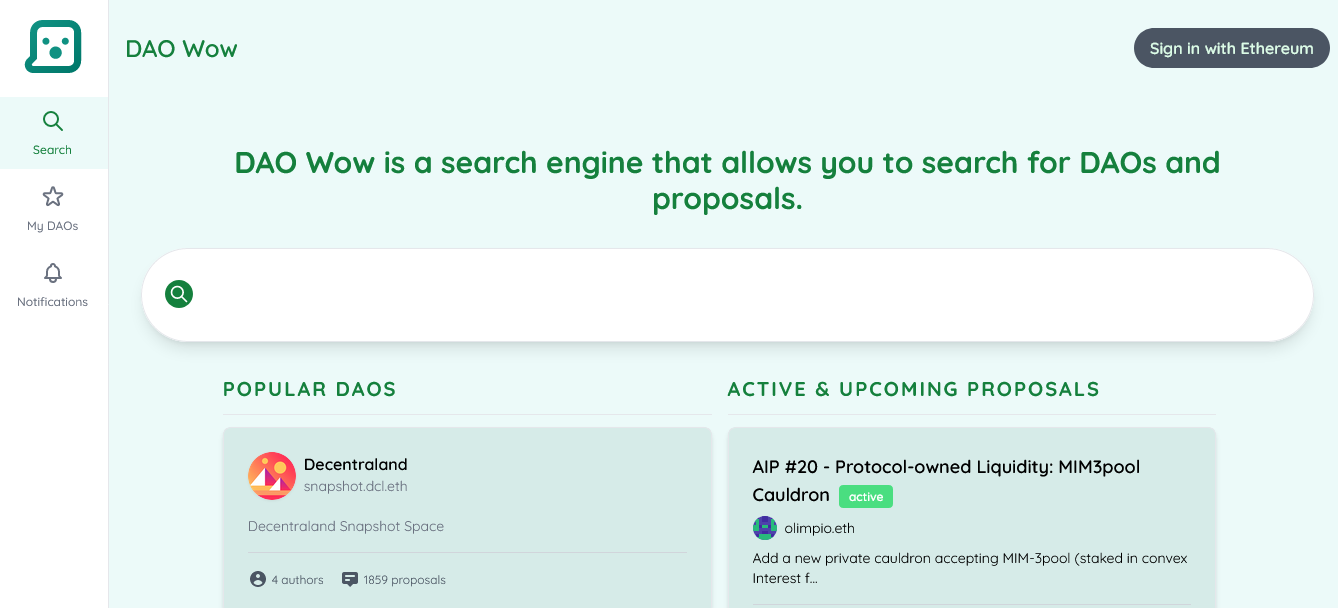 On one section of the homepage, you have DAOs sorted by their popularity and active and upcoming proposals on another section. You can readily view the number of proposals that have been created in each DAO and the number of authors. There is also a search bar on the homepage that allows you to easily find specific DAOs and proposals.
Users are required to connect their wallets to fully enjoy all the features of the tool. This includes email and Discord notifications on proposals from DAOs that you follow.
Pros
Sleek interface
Sends alerts via email or Discord whenever there is a new proposal or change on a proposal
Free to use
Cons
Requires sign-in to enjoy full features
Does not display a full list of DAOs. You need to have an idea of what you are searching for
Randomly displays proposals and popular DAOs
Subscribe to our weekly DAO newsletter and follow us on Twitter to stay up to date with important DAO news and knowledge. Contact us at contact@daotimes.com to pitch a story or share your thoughts. Let's build the future of decentralized organizations together.