The decentralized autonomous organization (DAO) behind SushiSwap has passed a proposal seeking to implement a legal structure within the ecosystem.
Initiated by Neil Bhasin on September 22, the proposal was passed on Wednesday, with 100% of the votes in favor of the idea. Moving forward, the activities of the DAO will be managed by three entities based in Panama and the Cayman Islands.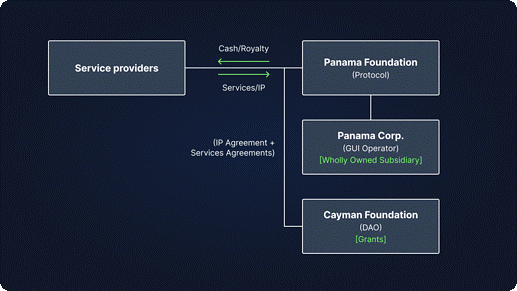 A foundation will be launched in the Cayman Islands to administer the SushiDAO in real life. Dubbed "DAO Foundation," the group will have a governance council that will be able to administer the Sushi on-chain governance process and manage off-chain activities. Some of its responsibilities will include administering a treasury, administering grants and on-chain governance processes, and facilitating proposals and voting.
The second entity, known as the "Panamanian Foundation" will administer the existing Sushi protocol, including staking and smart contracts related to the order book. The foundation will also work to develop the protocol.
Meanwhile, a final entity called the "Panamanian Corporation" will manage the front end of the protocol as a fully-owned subsidiary of the Panamanian Foundation. This entity will collaborate with service providers to develop and maintain the GUI layer of the protocol.
"The purpose of the entity structure & framework is to provide maximum flexibility for Sushi to proceed in whichever direction the DAO or governance takes it, while also mitigating risk," wrote Bhasin in his earlier draft.
According to the proposal, the foundations will take about four weeks to set up following the confirmation via governance vote.
The proposal trails growing scrutiny from regulators over DAOs. Notably, the Commodity Futures Trading Commission recently sued Ooki DAO for allegedly violating U.S. investment laws. However, some members of the DAO are not convinced that the decision would prevent state-level scrutiny.
"Nothing about a Panama Foundation or a Caymans entity or any entity type anywhere prevents or mitigates entity level + direct personal liability from US securities laws," said user 0xEVM1.
Check BTC Peers guide of the most promising crypto
Comments