Goldfinch DAO has passed a proposal to split its GFI rewards between liquidity providers (LPs) and Backers. The decision was in response to the imminent depletion of the GFI rewards allocated to LPs and Backers.
According to GIP-43 (Reevaluate LP and Backer Rewards), Backer Rewards and the GFI rewards for LPs will run out in mid-April and by the end of June 2023, respectively. Both dates are significantly closer than earlier anticipated. Consequently, GIP-43 provides a way to "gracefully extend the rewards and split the remaining tokens between Backers and LPs."
The community was presented with two options – maintain the status quo or split the remaining rewards 60/40 between Backers and LPs.
Voting on the proposal ended on Monday night, with the greater percentage of the DAO's voting power backing the second option of splitting the remaining rewards.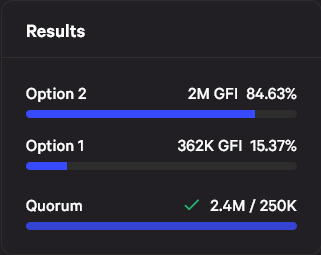 The implication of the recently approved proposal is that about 1.2 million out of the remaining 2 million tokens will be reserved for Backers. Furthermore, the emission rate of LP rewards will be gradually lowered by 50% every month for the next six months. This will extend the lifetime of LP rewards from around three months to 36 months. On the flip side, Backer staking rewards would be turned off, while the Backer repayment rewards would be slightly increased.
By splitting the remaining rewards, we are ensuring that both Backers and LPs are continuing to receive rewards throughout the life of their loan, which we think better fulfills the spirit of what the original allocations were meant to do.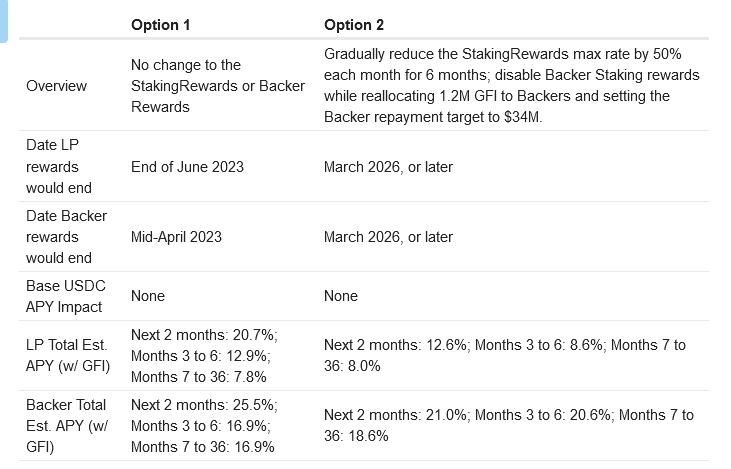 Over at the forum, a handful of DAO members questioned the rationale behind allocating a higher percentage of the rewards to Backers. Some argued that Backers were already being compensated for the higher risk.
Subscribe to our weekly DAO newsletter and follow us on Twitter to stay up to date with important DAO news and knowledge. Contact us at contact@daotimes.com to pitch a story or share your thoughts. Let's build the future of decentralized organizations together.
Check BTC Peers guide of the most promising crypto
Comments