Sequel to a submission by the dYdX Foundation on the possibility of building out the dYdX DAO through the creation of several subDAOs, members of the community are currently voting to launch the dYdX Operations Trust.
If the proposal is passed, an Operations subDAO will be launched by establishing a Guernsey Purpose Trust entity. Reverie Reserves, Joanna Pope, and Callen Van Den Elst will be appointed as Trustees, while George Beall will serve as the Enforcer.
The Trust will receive an initial funding of $372,000 and operate for six months. Its primary responsibilities will include the creation of a DAO playbook, a fiat bank account, and DAO communication channels.
As a backstory, the dYdX Foundation published a post titled "A Take on the dYdX DAO's Near Future" on November 2. The foundation explained that the decentralized autonomous organization "will likely consist of several autonomous subDAOs in the near future," with each of these subDAOs working on core functional areas.
Although the dYdX Grants Program ("DGP") is the only subDAO that has been formed so far, the foundation said that an "Operations subDAO would probably be essential for the success of the dYdX DAO, even in the short term." Consequently, Reverie Reserves LLC, a member of the dYdX DAO and the current dYdX Grants lead and Enforcer on the dYdX Grants Trust, initiated a proposal to create the entity on November 9. Voting on the proposal is open until November 22.
Meanwhile, some members of the DAO have raised concerns about the choice to appoint the members of the Trust rather than allow the community to choose.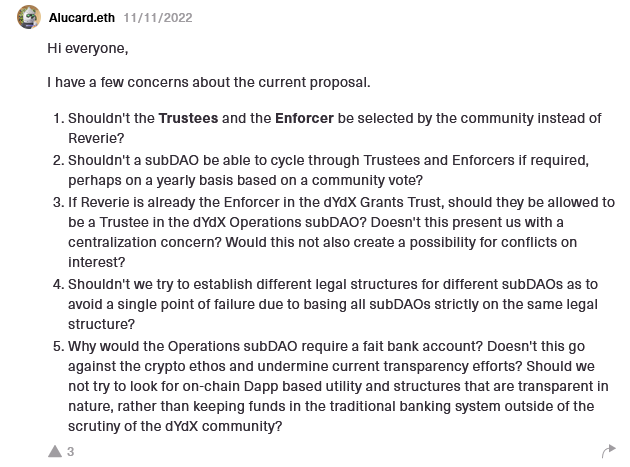 Check BTC Peers guide of the most promising crypto
Comments