In a bid to improve the flow of information within the ApeCoin ecosystem, some members of the ApeCoin DAO have put forward a proposal to establish a communication team. Dubbed ApeComms, the communications team is requesting $998,000.
The idea to create a communication team was first initiated by RedVulkan in September. "AIP-142: Establish Communication Team (ApeComms)" is a follow-up to the original draft, which seeks to establish communication channels between the "Special Council, Ape Foundation, and the ApeCoin DAO."
ApeComms, which will serve the ApeCoin DAO community, aims to increase the frequency, quality, clarity, transparency, and visibility of information running through the community.
The communication team will perform five primary functions, including creating and maintaining an official Discord server for ApeCoin, coordinating ApeCoin's Twitter account, and developing educational content to help community members during ApeCoin Improvement Proposal (AIP) phases. Other functions include maintaining communication lines between Ape Foundation Entities and the ApeCoin DAO community, as well as increased media coverage of ApeCoin DAO.
Reddit user newtosh commented the news:
BAYC tends to be seen unfavorably by outsiders, I think every penny spent on better PR / communications is helping. The success of their Metaverse depends on luring in new people.
To set its plan in motion, ApeComms is asking for funding of $998,000 in $APE for a 12-month assignment. The said amount will be used for initial set-up costs, content creation, tech expenses, security for a community Discord, and legal support. As per the proposal, "any unused funds at the end of the first term will remain in the ApeCoin DAO Ecosystem Fund."
The ApeComms team will kickstart operations with eight members from the BAYC/MAYC community and the Apecoin DAO - 0xSword, AdventurousApe, Amplify, BoredElonMusk, Halina, Lost, SSP, Waabam. Members were selected based on their contribution to the DAO in areas like creating newsletters and proposals and helping others through unofficial channels.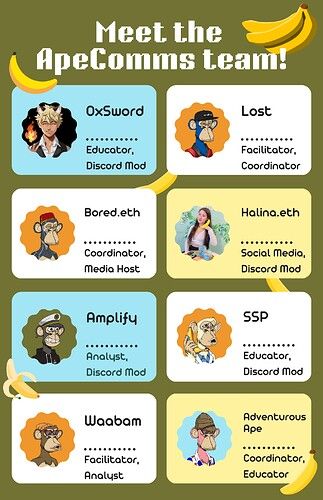 While Waabam and Lost will serve as the project managers, others like AdventurousApe and Boredelon will function as campaign managers.
Meanwhile, each member of ApeComms will receive a monthly remuneration of $9,250 in ApeCoin, amounting to $111,000 for the 12 months of service.
Check BTC Peers guide of the most promising crypto
Comments