The new tool will help unlock the power of the ApeCoin DAO community, putting it at the front of the Web3 ecosystem.
On Thursday morning, ApeCoin DAO approved a proposal to integrate with Catapult, a Web3 solution that facilitates effortless onboarding, rich Web3 profiles, better collaboration, and proactive governance in DAOs. Data on the Snapshot voting page shows that over 98% of the voters were in support of the initiative.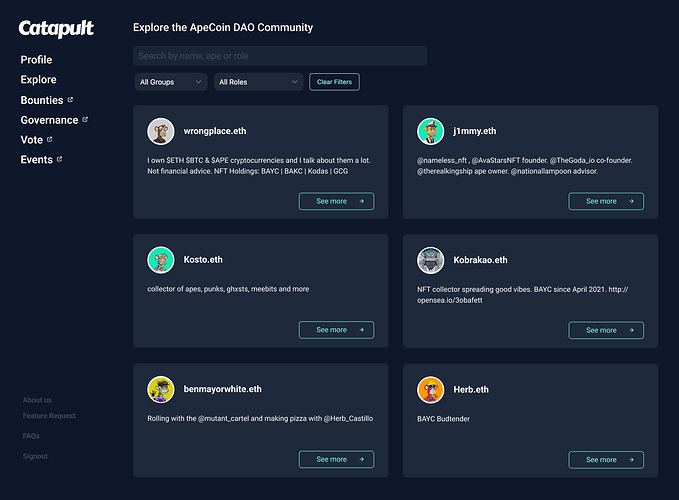 Catapult will attempt to solve the problem of "lack of context" within the ApeCoin DAO community. Notably, the tool will be used for onboarding and multi-faceted Web3 profiles. You can explore the  Catapult ApeCoin DAO Product walkthrough here.
The biggest challenge for all decentralized communities is the lack of context. Without easy ways to share who you are, what you've done, and to represent it to your community, it's impossible to effectively contribute and build relationships […] Catapult resolves this, empowering the community and its members, and driving value to the ApeDAO community.
According to the proposal, the integration will help ramp up engagement and participation in ApeCoin DAO and reduce the operational workload for ApeCoin DAO. Some of the key performance indicators that Catapult will be tracking include the number of members onboarded, profile views by members, and profile completion/usage.
The tool is expected to be fully implemented across the DAO within 12 weeks, beginning on January 19.
Meanwhile, although the Catapult team revealed that it would bear the financial burden for the full integration, it requested an allocation of 10,000 APE for member onboarding incentives. In particular, the first 5,000 members to go through the onboarding flow will each receive 2 APE.
Check BTC Peers guide of the most promising crypto
Comments