Following a Snapshot vote on Thursday morning, ApeCoin DAO will be employing the services of WebSlinger as an administrator for the APE Foundation.
About two weeks ago, APE Foundation formally began its search for an administrator to perform certain functions within the Cayman Islands. Consequently, a request for proposal (RFP) was administered by  Working Group Zero (WG0), asking qualified vendors to submit their applications.
The administrator will perform functions related to compliance, finance, legal, operations, and treasury.
Following the RFP, four vendors submitted their proposals to the WG0 – WebSlinger, Autonomous, Lemma, and Provenance.  After careful consideration, the group recommended WebSlinger as the best candidate for the position. "While both groups are competent and accomplished – WebSlinger's breadth of background, CFO services provided by a global entity, desire to help decentralize DAO operations, and extensive experience in the Crypto / Web3 / DAO environment were the key differentiating factors in our choice," the WG0 said.
According to the group, the applicants were evaluated based on the following metrics – knowledge and work experience, capacity and redundancy, ability to meet deadlines, as well as value and price. The knowledge and work experience category carried a maximum of 40 points, while the ability to meet deadlines and the value and price categories were capped at 25 points each. Meanwhile, capacity and redundancy attracted a maximum of 10 points.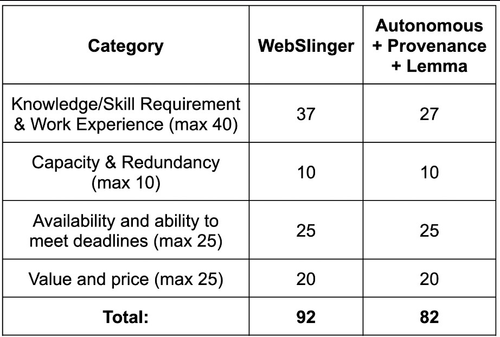 As seen in the image above, all four candidates scored the same number of points in three categories. WebSlinger trumped the other applicants on the basis of work experience.
WebSlinger will receive a monthly remuneration of $75,000 for service as an administrator to the Ape Foundation. 75% of the salary will be in USDC stablecoin while the remaining 25% will be paid in ApeCoin.
Comments